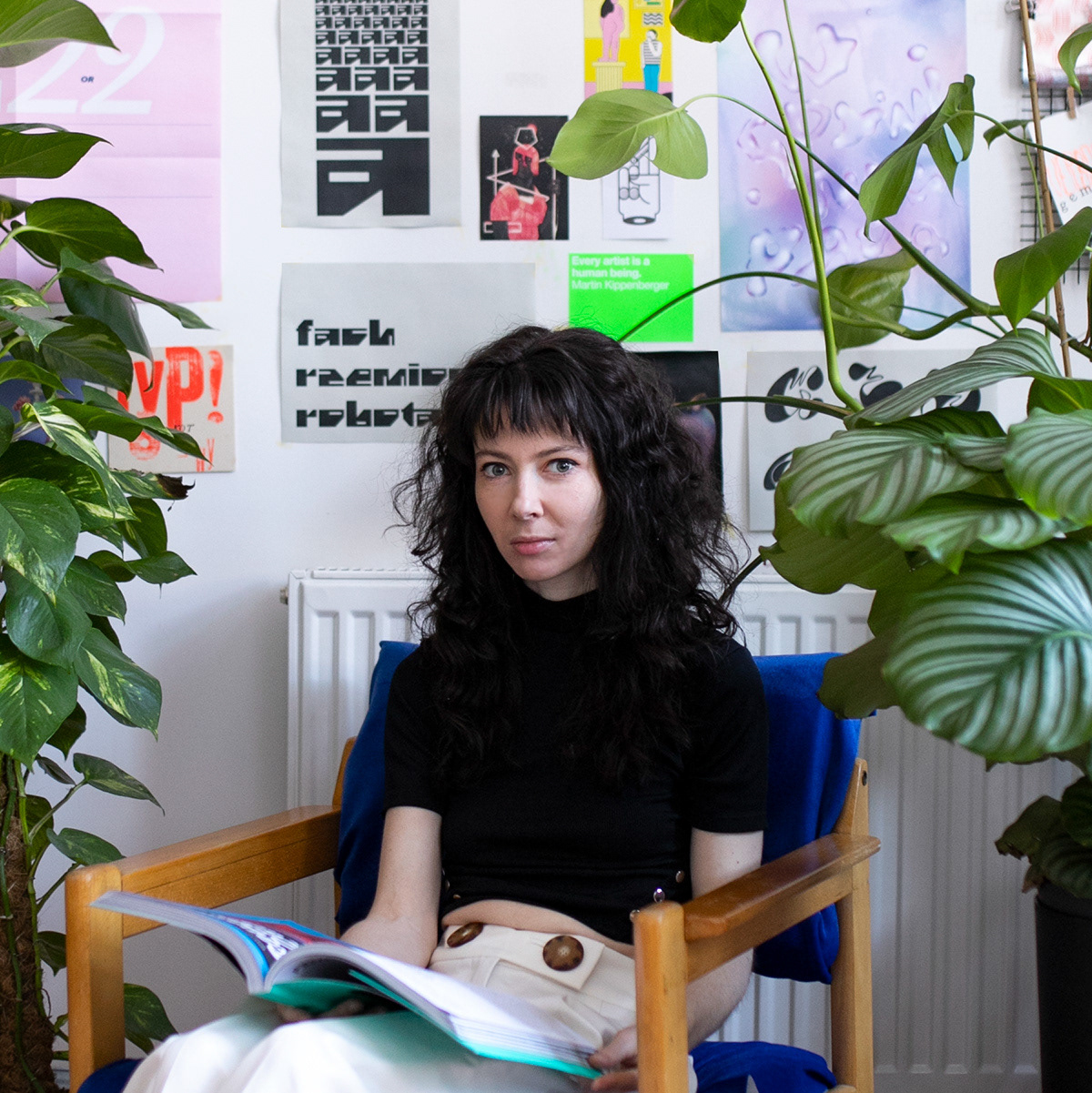 I design visual identifications, typography and creative projects. Currently working as an intependent graphic designer in Gdansk.
Graduated from UWM in Olsztyn as Landscape Architect and Academy of Fine Arts in Lodz. Currently student of graphic design on University of the Arts Poznan. I gained my experience in advertising agencies and various companies as graphic and web designer. I have worked, among others at TOFU STUDIO. 
I run my own graphic design studio TYPOWY KOT.
My works consist of experiments with lettering in digital and analog way. I am open to new design challenges.
I'm interested in typography, set design and interactive solutions in design. Lately I have discovered ins and outs of processing and animation. I adore new challenges, teamwork, I also like unusuality and orginality in the process of creation.
Privately I love nature (plant mom), techno music, old and "ugly" things and lettering. Love to take a cup of coffee and go for the walk, looking for signs and interesting frames in the places. Open to met with people and collaborate with smart and valuable artistic projects and in experiments 😎.

STGU member
TYPOWY KOT 2020 – ongoing
Graphic and Web Designer
2015-2018 various companies as graphic and web designer
education





University of the Arts Poznan


Graphic design, Bachelor studies 2019 – ongoing
Academy of Fine Arts, Lodz
Post-graduate graphic design studies 2014-2015
University of Warmia and Mazury in Olsztyn
Master of Science: Spatial planning 2011-2013
MSc engineer Landscape Architect 2007-2012


Jagiellonski Kurs Typografii


(typography course)
Sztuka Projektowania

(graphic design course)
02.2017-04.2017
Independence. Artworks for Ukraine
MIDORI.so gallery, in Bakuroyokoyama, Tokyo
October - November, 2022
zebys Ty tak sprzatala, jak te literki robisz
ESKAEM, Gdansk
September 09 — September 25, 2022
333 - 3 girls 3 posters 3 cities
SKLADAK, Gdansk
October 09 — November 15, 2021
WARMUT, Warsaw
August 21 — September 30, 2020


Barcelona Design Week, Barcelona 
November 17 — November 25, 2020
Dutch Design Week, Eindhoven 
October 17 — October 25, 2020
LAUS AWARDS - GOLD
category: lettering / experimental typography - 06.2021 (with various authors)
5 honorable mentions from experts 01.2020
Honorable mention at the fresh blood category - 11.2019
Graphic design category - 02.2018
Dziadostwo competition from "Pan tu nie stal"


Honorable mention - 03.2017
Torun Startup Weekend - Big Data Edition - Ist Place


Lead graphic designer in Lead Call project - 05.2015
Olsztyn Startup Weekend - 1st Place


Graphic designer in Life Drop Studio team - 03.2015